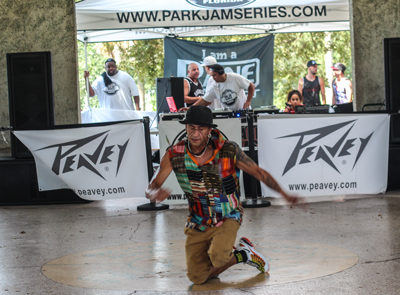 Original Article at Peavey.com
Peavey Electronics is honored to renew its corporate sponsorship of this year's Park Jams Series Florida. The event kicked off its second season in Tampa celebrating Hip Hop's positive influence on urban youth and supports young artists in a resilient community.
Founded by legendary DJ Charlie Chase, a founding member of the Cold Crush Brothers, the 2017 season of Park Jam Series Florida is dubbed "The Mixtape Era." This year marks the 44th anniversary of the birth of Hip Hop, an event that was recently commemorated by a popular and interactive Google Doodle. With the public tuned in to the history of Hip Hop, The Mixtape Era is a nostalgic nod to its founding spirit, which Park Jam Series Florida strives to keep alive.
Inspired by a long-running event in New York City, Park Jams Series Florida focuses on family, education, music and community enrichment, and works in conjunction with local non-profit organizations committed to improving quality of life in inner cities. The series brings together local artists over grooves from the old/new school, supported by Peavey's DJ equipment such as the FX™ mixers, QW® enclosures, Crest® amplifiers, and PVXp™-DSP powered loudspeakers.
The new PVXp DSP powered enclosures from Peavey Electronics® provide an ideal solution with clarity, ease of use, and sophistication. Offering ADSP (Advanced Digital Signal Processing) technology, a larger box for better bass, and three times the power of the competition, the PVXp DSP series takes the standard PA to the next level. The cabinets have an astounding 128 dB SPL with a rugged yet compact 50 oz. magnet paired with a 2 3/8" voice coil teamed with the Peavey RX™ 14 driver housing a 1.4" titanium diaphragm. The asymmetrical horn keeps the sound focused towards the audience using Peavey's exclusive Quadratic Throat Waveguide™ Technology that aims coverage to an effective 100° by 50° radius (15° upwards and 35° downwards).
At the heart of the PVXp DSP series is the forward-thinking design of the ADSP with adjustable EQ. Combined with an XLR 1/4" TRS combo jack, a built-in mic-pre, and a ground lift, operation is a breeze. EQ presets that include Music, EDM, Rock/Country/Hip-Hop, Acoustic, Voice, Church, and Monitor are easy to use and offer adjustable Treble and Bass to suit the environment as needed. Thru Output via male XLR and a separate 1/4" TRS phone jack are featured on the two models.
Similar to last year, the series takes place on four Saturdays over four months. Audiences will enjoy an excellent display of mixing, scratching, and masterful blending by renowned artists as follows:
Sept. 23: Crazy DJ Bazarro, DJ Izzy Does It and DJ Terra at Macfarlane Park
Oct. 21: DJ Doo Wop, DJ Wizz 1, and DJ Bobby Castro at Macfarlane Park
Nov. 18: DJ Eddie B Swift, DJ Immortal, DJ Spaceship at Perry Harvey Sr. Park
Dec. 16: Tampa Legends Weekend at to-be-announced location
The family-friendly events are free for all ages, and attendees can bring their own lawn chairs, coolers and canopies.
For more information about the events and Park Jam Series youth programs, visit parkjamseries.com.