K-100 Radio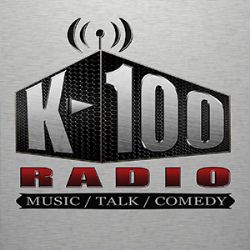 K-100 RADIO is a live 24/7 streaming music, talk and comedy Internet radio broadcast. We play the best new releases that you may not always hear on your FM dial. We break new music almost daily, and we don't forget the great songs from the past. A great blend of hot new music and throwback classics, our 24-hour rotation allows us to play more music with far lass commercial interruptions that traditional radio.
We also highlight independent artists and their music from all over the nation and world on our broadcast. This lets us bring our listeners some great music that slips through the cracks because of the politics & money involved with mainstream radio and the music industry. We want to even the playing field and give independent music artists a platform where all that matters is HOW GOOD THEIR MUSIC IS AND HOW HARD THEY GRIND.
We also have DJ Mixshows by some of the best DJ's in the game! With over 20 different mixshows and DJs from all parts of the country, we keep our listeners in tune with what's popping in the clubs and streets of many regions. Check our DJ PAGE to see which DJ's we have on the broadcast and their scheduled air times. If you are an indie artist you should definitely network with the the DJ's that we have listed.
We also do live interviews with artists, music industry professionals, business professionals and social awareness types that are interesting, informative and fun to listen to. We have the ability to broadcast live from anywhere and have done so at various events, clubs, parties and more. We are always in the streets getting exclusive coverage from top-notch music conferences and private parties. We also have original home grown dedicated talk show segments and also syndicated talk segments we air on the broadcast, and if you are an INDIE artist and would like to be interviewed LIVE ON THE AIR, go to the "Ads & Promo" tab and check out our DIRECT LINE interview offer.
The best thing about all of this is that it's FREE to our many thousands of loyal listeners. There are no monthly fees like XM; you are not flooded with a ridiculous amount of commercials and censorship like FM radio. With our mobile apps and other apps like Tunein Radio, you can even listen to us on the go in your car or while you work out at the gym. All you need is a good Internet connection, either Wi-Fi or even your mobile data network on your phone service.
Internet Radio is the new radio frontier, and K-100 Radio is a leader in the new technology. We have been nominated for and won several awards for our broadcast including the S.E.A. AWARDS (Southern Entertainment Awards), The Diamond Awards (held by Bigga Rankin & Cool Running DJs), The Atlanta Underground Music Awards, the SCM Awards, the Hot Block Awards, Battle Hotlanta Awards, the ATLs Hottest Awards, the North Florida Entertainment Awards and more.
BLIZM
Program Director / Producer
K-100 RADIO
www.K100Radio.com (Chainless Entertainment)
We are on Instagram @K100_Radio
FOLLOW US ON TWITTER
https://twitter.com/#!/K100_RADIO
LIKE OUR PAGE ON FACEBOOK
https://www.facebook.com/K100RADIO